Blog week ending 13 September
Posted on: 13/09/2019
Pastoral Structure. Throughout the year, competitions, activities and charity events are held by the houses. Inter house competitions bring together the students of the school in a fun and competitive way, providing them with an opportunity to show their breadth of talent. Activities are extremely varied, ranging from cricket to computer gaming to human hungry hippos! The schedule changes each term and students are encouraged to get involved, support their House and earn valuable House Points too.
For last academic year Newton House were the overall winners with a significant margin at 2400 points – Congratulations! The full scoreboard is as below;
The Year 7 football inter house tournament has got off to a flying start with plenty of passion and skill on show, thank you to all students who came to support their Houses.
Pictured below some of the players including below left, Charlie H of 7B who scored a hat trick!
Year 12 Art Students have been exploring experimental drawing techniques and embraced working outside their comfort zone to produce some vibrant work. Students challenged themselves to complete timed life drawings using charcoal taped to bamboo canes. This technique, famously utilised by the artist Henri Matisse requires confidence, dexterity and careful observation to achieve accurate results.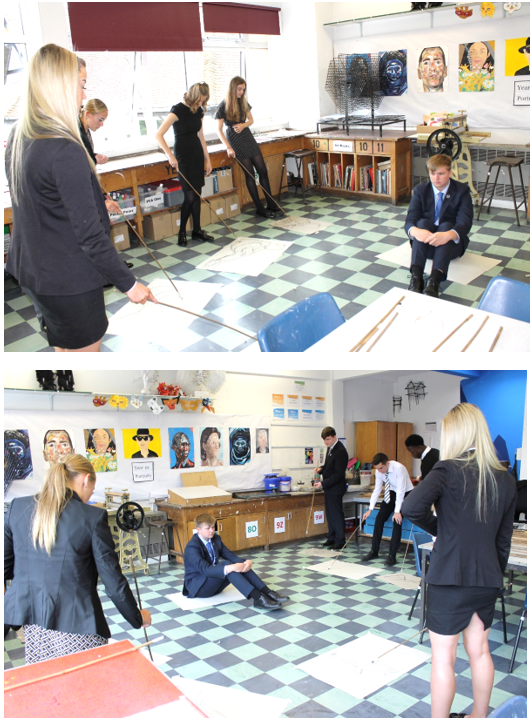 Designing the Built Environment Year 11 students are working on their controlled assessment. They are working on their drawings for an extension and re-modelling of a local community centre. This is a live project which will see a student's plans accepted for the design.
Year 8 Biology students have been learning about breathing and the lungs. During this practical lesson they conducted an experiment to enable them to explain gas exchange in the lungs. Each student recorded their personal lung volume on a class chart.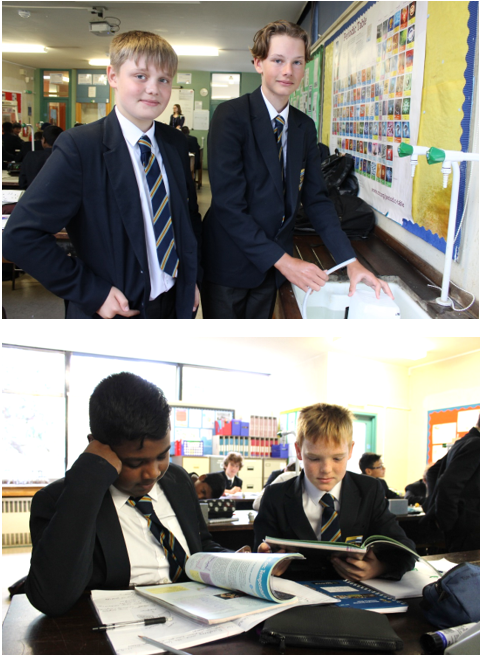 Y12 Physics students have been measuring resistance in electrical circuits they have made. They then tested and calculated errors to check the accuracy of the data.
Year 8 Food Tech students have been practising their baking skills by making shortbread biscuits and then decorating them. The objective was to produce uniformly shaped, baked and iced biscuits. A variety of beautifully prepared and delicious biscuits were created.
The PE Department. There are plenty of opportunities to represent Wilmington Grammar School for Boys in a variety of sports. We welcome all students to come along and join the trials. The below trials and fixtures have been scheduled. For more information, visit the PE Department.
Year 7 Football Trials with Mr Lynch, Mr Sage and Mr Colledge. Monday 16th September 3.30 – 5pm – Get changed into PE kit (not rugby kit)
Year 7 Rugby Training (all students welcome) with Mr Sage and Mr Harris. Tuesday 17th September 3.30 – 5pm – get changed into full rugby kit
Year 8 Rugby Trials/Training (all Y8 students welcome) with Mr Lynch. Tuesday 17th September 3.30 – 5pm – get changed into full rugby kit
Year 9 Rugby Trials/Training (all Y9 students welcome) with Mr Powell. Tuesday 17th September 3.30 – 5pm – get changed into full rugby kit
Year 8 Football Trails with Mr Moreno. Thursday 19th September 3.30 – 5pm - Get changed into PE kit (not rugby kit)
First XI Football. The First XI have their first North Kent Premier division game away to Christ the King sixth form college. We wish Mr Lynch's side well in their upcoming game and for the season ahead.
First XV Rugby. The first XV don't have a game this week but have training with Mr Powell and Mr Sage this Wednesday in preparation for their National Cup match against Gravesend Grammar on Wednesday 25th September at home.
Arkwright Engineering Scholarships are a prestigious award aimed at people who intend to become leaders of industry. Out of the 4000 students who apply every year only 400 succeed in receiving the award. Members of Year 11 need to consider whether they would like to be nominated for the application process. Any questions should be directed to Mrs Smith in DT.
The September 2019 Scholar newsletter is now available, and can be viewed here - http://bit.ly/AES-Sept2019
Thank you to all parents and carers who attended our Year 11 Expectations Evening on 4th September, I hope you found the session valuable. The presentation delivered on the night can be viewed on our website here
Best wishes,
Charlie Guthrie