Blog week ending 12th July
Posted on: 12/07/2019
We all enjoyed a fantastic Sport Day with a large number of sporting events demonstrating a huge range of skill and expertise. Events included the traditional field and track events as well as Volleyball, Rounders and Ultimate Frisbee. It was an incredibly busy yet well planned day with Mr Smith in the role of MC, presiding over events in his own inimitable fashion! All students gave it their all, achieving the best for themselves and their House. Stand-out performances included - Ollie E in 7S who continued his great form from the District Athletics competition and won the 1500metres with a quick time. In Y8 the standout athlete was Gervace C of 8T dominating the distance events and scooping victories in both the 800 metres and 1500 metres. Babafunmi F of 10N also performed incredibly well not only in the javelin where he very nearly recorded a throw over 40 metres, but also on the track, just beating Fola A of 10N in the 100 metres, then playing a pivotal role in winning the 4x100 metre relay for Newton House.
The standard was also very high in the Ultimate Frisbee, Volleyball and Rounders competitions. Special mention must go to 10 Newton who were victorious in all of these disciplines, scoring some huge points for the formidable Newton House.
Thank you to our PTA, who were on hand to provide cold drinks and snacks to our athletes! As always, all money raised goes towards school projects.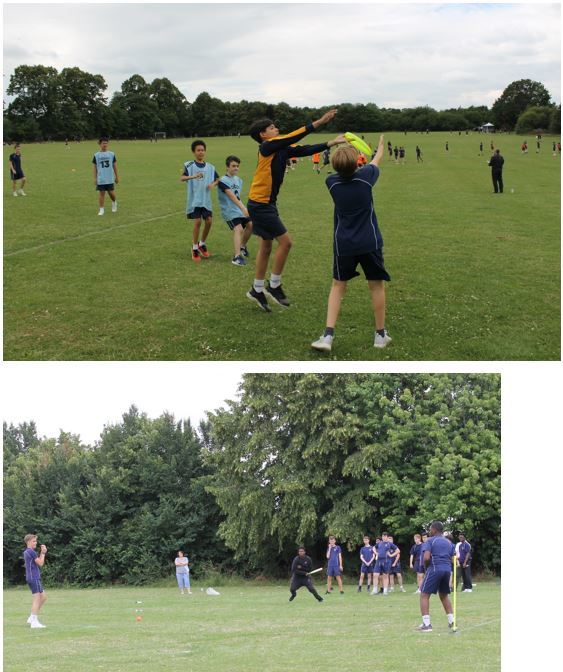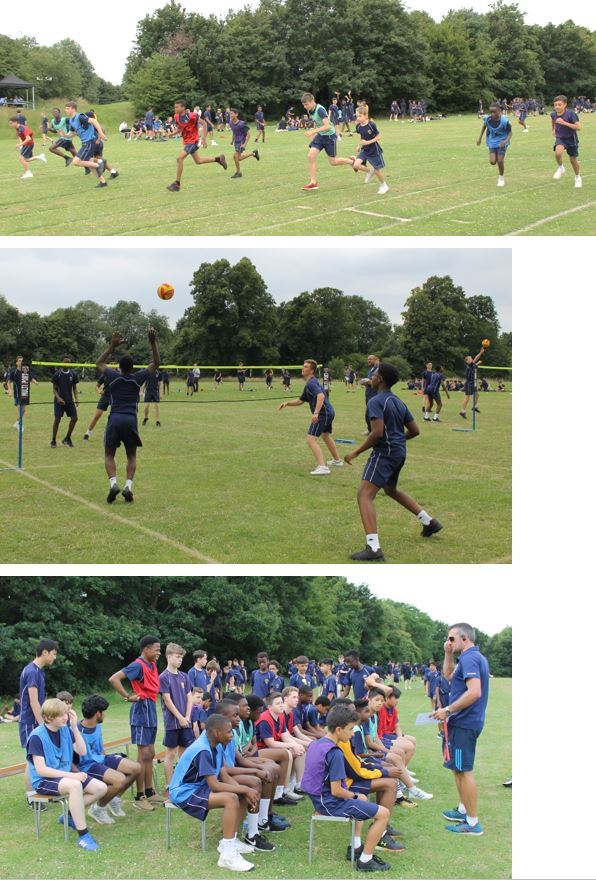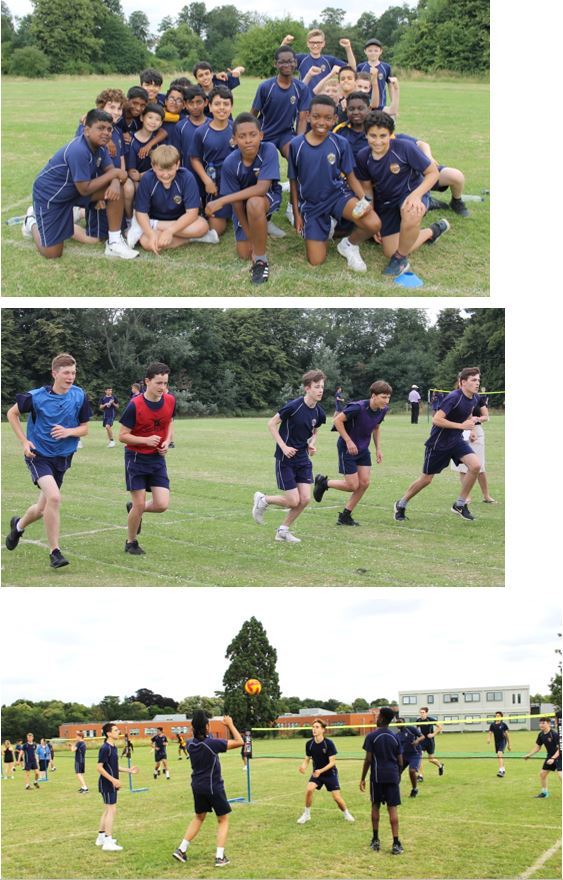 Our Year 7-9 Enrichment week will be from 18th to 20th July 2018 (inclusive). We have devised an exciting schedule of activities designed to develop our students' experience at WGSB. The three days are an opportunity to engage and enjoy; encounter new experiences; develop their resilience and character; inspire their creative mind; celebrate British values; harness self-belief and confidence; develop their teamwork and communication skills; achieve new skills; test and challenge their boundaries and mind-set; and finally provide an opportunity to evaluate and reflect upon their achievements. For a full schedule of activities and more information, please see our website here
Last weekend 5-7th July, the WGSB DofE Expedition team took over 50 students to the Swattenden Activity Centre, Cranbrook and trekked around the surrounding area. Students were treated to some fantastic views on challenging and often hilly terrains. One big problem to overcome was trekking through Europe's largest chicken farm. It's fair to say, some of our boys don't want to see another chicken for a while! The Silver students completed a 2 night and 3 day venture, with our Bronze students completing an overnight stay and 2 day venture. Students did exceptionally well in the warm weather and were a credit to the school in the way they applied themselves and behaved across the weekend. Well done to all involved.
Mr Stephen Sage
On Thursday 27th June, A Level History students from WG6 visited Hampton Court Palace as part of their studies of the Tudor Module, which makes up 40% of the A-Level History course. The main focus of the day was an education session led by the Palace which focused on 'Tudor Crises'; and this involved the students visiting different parts of the Palace, using sources to make a judgement to the extent to which these events should be considered crises. In addition, the students had the opportunity to look around the palace, which was a favourite of King Henry VIII's and includes several exhibitions on different parts of his life and reign of England.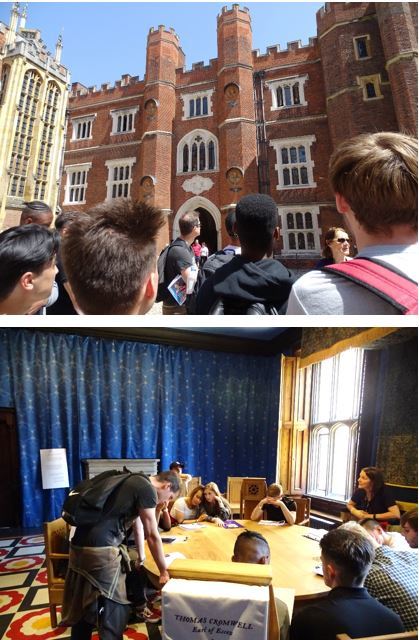 WGSB Uniform Shop – Now Open on the school premises
The Second Hand Uniform shop is run by the PTA and we're here to help. We sell all uniform and PE kit items for you to purchase. If you require any items please email the PTA.
You can also help by donating any outgrown uniform, please send it to the school office marked for the attention of the PTA. Thank you.
If you wish to purchase any items contact Sam via E: pta@wgsb.org.uk
Price List
| | |
| --- | --- |
| Rugby shorts | £3.00 |
| Rugby shirt | £3.00 |
| Prostar T-shirt | £5.00 |
| Prostar shorts | £4.00 |
| School jumper | £5.00 |
| Lab coat | £5.00 |
| Blazer | £10.00 |
| Trousers | £3.00 |
| Ties | £1.00 |
Congratulations to Lewis F of 7N who competed in the National BMX Series in Glasgow. Lewis performed brilliantly, securing the win on both days on his 24" Cruiser bike and a 3rd & 6th on his 20" bike.

With one round of racing still to go, this win has secured Lewis the National No. 1 plate on his Cruiser and he will continue to battle for a top 5 position on his 20". He was also presented with his GBR shirt, I have attached some pictures. A fantastic achievement Lewis, well done!
Jaedon L of 9B was selected to represent Jamaica again, this time at the Caribbean and Central American Championships – his 4th call up! 26 countries took part in what was an incredibly tough competition with hot weather conditions and different time zones for Jaedon to contend with. However, Jaedon showed tremendous strength of character and determination by swimming a personal best time in the 4x100m Medley to help team Jamaica (13-14 year old) team secure a bronze medal! Jaedon is now concentrating on his preparations for the English National Championships in August. Another great performance Jaedon – congratulations!
Student Reports. Please note Year 7 Progress Report & Exam results are now available on the Parent App as well as Year 8 Exam results and written comments. Year 12 Full Report including assessment grades will be available today, 12th July.
Please note we have received the below letter from bus operator, First Bus Stop Ltd.
Dear All,
Please be aware of route updates from September 2019:
There will be one bus for the Route 4 service running from New Ash Green to Dartford and Wilmington Schools; AM and PM.
There will also be one bus for the Route 3 service running from Valley Drive to Dartford and Wilmington Schools; AM and PM.
Route 1 will be cancelled – new operator TBC. Please contact KCC for more information.
As you may be aware, this may cause capacity concerns with only one bus running on each route. To help prevent this issue, we will starting a new service; "Route34".
Route 34 will start at New Barn Road – Fairlight Cross, going to both Dartford and Wilmington Schools. This service will be offering availability for passengers who usually use the Route 4 and Route 3. The route will proceed down New Barn Road and will then make way to Ebbsfleet Football Ground, following closely behind Route 3 for any passengers who are unable to get on the Route 3 bus due to it being at full capacity.
Please note that we recommend passengers who get on at New Barn Road use the first service available, "Route 34", to save on any disappointment.
Please see the updated timetable on our website: www.1stbusstop.co.uk
Yours sincerely,
Mitchell Thurbin
Managing Director
1st Bus Stop Limited
Best wishes,
Charlie Guthrie