Blog week ending 5th July
Posted on: 05/07/2019
Hola School Hanau Germany Visit. WGSB welcomed 45 students from Hola Grammar School, Hanau which is Dartford's twin town. The students were on a five day visit to Dartford and London and this visit to WGSB is an annual event. This is now the fifth year that Christine and Harald have joined us as trip organisers, made even more special by the fact that Harald came out of retirement just to take part in the trip.
Together with 24 of our Y9 students, the German students took part in various activities including fun with Spanish, European quizzes, Maths challenges and even learnt some Mandarin. One special aspect of this year's visit was the opportunity for three of our students to finally meet their penfriends face-to-face which bought much excitement (and a few nerves!) to the atmosphere.
It was a very enjoyable and successful visit and we hope to carry on this tradition next year as well as taking some of our students to visit Hola
Thank you to all the staff who gave up their free time to deliver fun and enjoyable lessons, the office staff for helping with organisation and the Y9 boys (listed below) who were perfect hosts. All these Y9 students have opted to take German as a GCSE next year.
Alex l, Regi B–A, Will B, Harvey D, Yole Feyi A, Ennis G, Stanley G, Sameen H, George J, Sean K, Taran K, Sam L, Jaedon L, Matthew N, Sumedh P M, Isaac O, Connor R, Krystian S, Sukhraj S, Jake S, Will T, Aksan T, Cameron T, Tobey W
Year 10 Geographers travelled to Reculver and Herne Bay in Kent to study different coastal management techniques deployed around the North Kent Coast. Students visited and surveyed an unprotected beach by Reculver Tower before travelling to Herne Bay to conduct experiments there. Using the latest 'Clinometer' App technology students gathered beach profile data that could be used to explain coastal processes.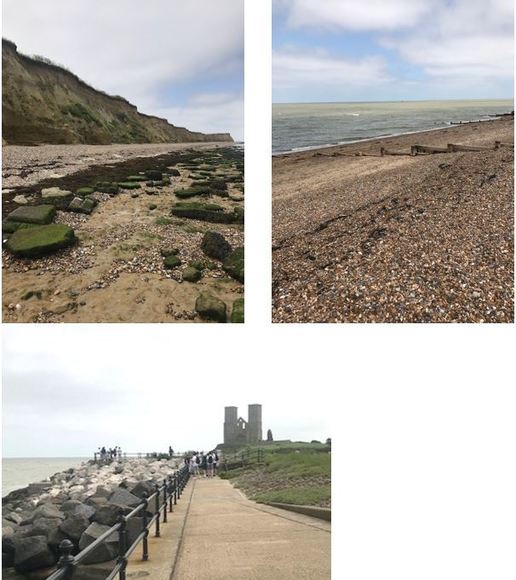 Kent Schools Summer Squash Championship 2019. As usual Wilmington was well represented at this year's Kent Schools Summer squash championships. We fielded a Senior (Years 10-13) and two Junior teams (Years 7-9) at the championships
This year the Squash Championships were at Rodmersham Squash Club again– a venue with six high-quality courts and good facilities. Our teams played many matches over a five hour period – the boys were physically tired by the end! Our Junior A team consisted of two Y8s and two Y7s a much younger team than many of our rival schools and a great credit to the progress the boys have been making. They played in one of two leagues and progressed to the semi-final where they came up against St Olave's who's team included a top ranked England player. The standard of squash was excellent and well done to Alex, Ollie, Teddy and James for reaching the semi-final. Our Junior B team played in the other league where the standard of opposition was very high. It was a valuable learning experience for a very committed but as yet inexperienced team. Well played Benas, Reuben,Thomas and Jake.
In the Senior Section we finished runners-up to a very strong Simon Langton A team packed with county players. Well done to Louis, Finley, Dylan and James. All the teams had a great day out and enjoyed the squash which was played in a very friendly spirit and where players were also expected to referee and score games. We will continue to train hard at Squash Club (available on Tuesdays or Thursdays) and our thanks yet again, to our coach Derek Thompson. With practise boys can make competition standard in less than a year. We now have boys playing for Kent so real recognition is possible for your efforts. So, why not join the squash club and give this exciting demanding sport a go!
Free Yoga sessions are available Monday lunchtime in the sports hall. No need to sign up, simply come along to join in. Yoga combines physically challenging exercise with relaxing breathing exercises, perfect to maintain both physical and mental wellbeing.
Y9 Biology Students spent a practical lesson to explore the function and structure of the heart. Students began by recognising the right and left side then identifying the arteries and atria before dissecting the heart to reveal the ventricle, tendons and bicuspid valve.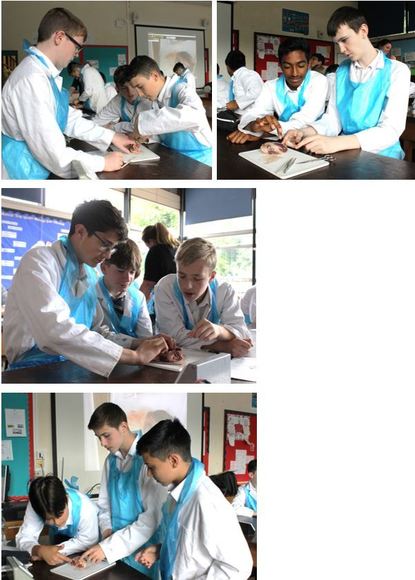 Woody S of Y9 started Tae Kwon Do at Family Martial Arts in 2010. He was awarded his first black belt in December 2016 at just 12 years old and this Saturday, in a long grading in the extreme heat, he was awarded his 2nd Degree black belt. It is a fantastic achievement – well done Woody!
Sports Day is scheduled for Tuesday 9th July. The PTA will be runing a refreshment stand for students but will have no access to parentpay so please allow your son/daughter a small amount of cash to make purchases.
PTA - The Summer Raffle Grand Draw (to be drawn on 15th July)
1st Prize - Apple Airpods
2nd Prize - National Trust Annual Family Membership
3rd Prize - £75 Bluewater Voucher
Please continue selling your raffle tickets and return your envelopes with stubs and money to the school. Every £1 helps.
The PTA are extremely grateful for your support. If each student was able to sell their two booklets of raffle tickets we could potentially raise £1000's
So please help us to sell, sell, sell! If you require any further raffle tickets please email pta@wgsb.org.uk
PTA uniform shop. We are very low on 'nearly new' uniform stock. If you have any unwanted items of uniform we would be very grateful if you could donate them to the PTA. Please drop all items off at reception.
Best wishes,
Charlie Guthrie