Blog week ending 28th June
Posted on: 26/06/2019
Congratulations to all students who received an award at our Sports Presentation Evening. What a wonderful celebratory event, with so many students and staff in attendance to support the endeavours of our cricket, rugby, football, squash and tennis players. Comperes Oliver T (Y8) and Senen H (Y9) did a terrific job providing reviews of each team's season as well as delivering a slick and professional presentation. Finnley D (Y8), who is a member of the Men's artistic gymnastics English Squad, provided a stunning demonstration (pictured below) and was amongst those students who received a letter of recognition for their achievements in sport outside of school. We are incredibly proud of all of our sports students who demonstrate huge skill, commitment and tenacity – well done to you all.
Mr Sage, Mr Lynch, Mr Powell & Mr Harris
Y10 GCSE Science students enjoyed a series of practical lessons across the subjects to develop learning and test hypothesis. Physics students have been investigating Thermal Insulation and how materials reduce energy transfer. The experiments measured the effect of the number of layers and different types of insulation, students recorded and analysed their results in order to write a conclusion.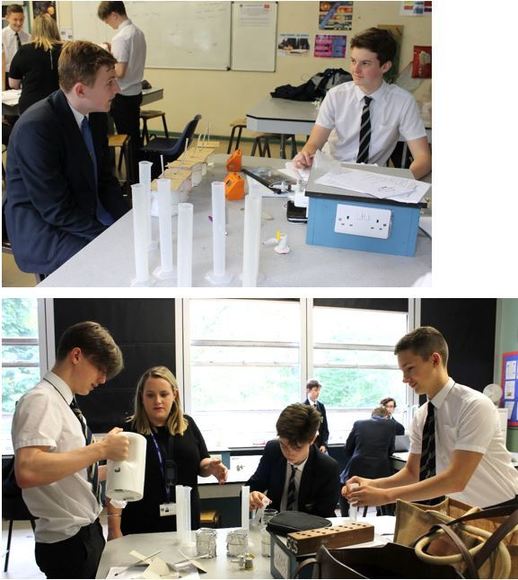 Y10 Chemistry GCSE students were using Paper Chromatography to separate and identify the components of a mixture. In this practical lesson students used paper chromatography to identify colouring agents used in food or ink – a process used in the food industry and forensic science.
Y10 Chemistry GCSE students have been identifying colourless and odourless gases during a practical lesson. Using test tubes students conducted a range of experiments in order to detect Oxygen, Hydrogen, Chlorine and Carbon Dioxide. The tests provided an observation unique to each gas which allowed students to correctly identify them.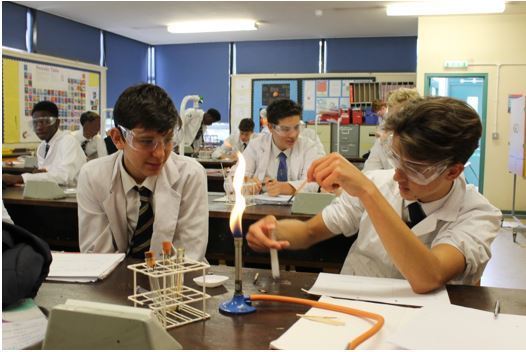 WG6 A level Poetry conference. On Monday the 24th of June, the A level Literature group attended the 'e.magazine Poetry conference' exploring poems we study at A level. It was a very impressive event with many schools attending. A range of poets performed their poems and entered into conversations with other poets and the student audience about the ideas suggested in their poems. A highlight was a student discussion with Daljit Nagra where he let students pick his brains on his inspirations for poetry writing. He spoke about his parents being immigrants and how their journey and his wider family's experiences coming from India shaped his ideas. He also talked about combing many language roots in his poem. Here is a verse he spoke about where immigrants were hoping to get citizenship and working hard to contribute:
"Swarms of us, grafting in
the black within shot of the moon's
spotlight, banking on the miracle of sun –
span its rainbow, passport us to life. Only then
can it be human to hoick ourselves, bare-faced for the clear."
Students felt they gained many tips towards approaching an A level examination and great fun was had by all.
Ms Wakeling
We welcomed Freddie McCann from The London Institute of Banking & Finance who delivered a talk to our WG6 Financial Studies A level students. The LIBF is a university college offering industry-recognised and respected education to prepare students for every stage of their career. More details regarding their courses, scholarship opportunities, Open Days and Summer Schools can be found on their website here. This year's Summer School is 3 days priced at £75 (or £50 for those on the Financial Studies course) and is at their London Campus near Monument, Wednesday 28th to Friday 30th August.
Year 8 Art students were given images of birds of prey as stimulus to create mixed media images. As you can see they have produced a lovely range of different style pictures.
Year 9 Physics students are learning about electricity and were investigating the different parts of the National Grid. Following their investigative work students produced these brilliant 3D models to demonstrate the function of each component and to explain the role of transformers.
Nominate WGSB to be in with a chance of winning £5,000 worth of books for our library .. and an extra £100 for yourself! Enter here
Year 9 Maths exam results will be available on the Parent App on Monday 8th July (not 1st July as previously reported)
Don't forget it's our Summer Fair this Saturday 29th June. It's set to be a fabulous day, with plenty of activities for all! All monies raised go to fund projects in school which directly benefit our students so please do come along, enjoy the event and support the school.
Best wishes,
Charlie Guthrie