Blog week ending 21st June
Posted on: 21/06/2019
The Art Department exhibited the A Level and GCSE work in order to be able to share (and show off!) the stunning range of so many accomplished and inspired pieces. The exhibition was attended by students, staff and parents and was a perfect opportunity to enjoy this amazing body of student work, every bit as skilled and impactful as those found in smart galleries. The examination moderators have visited the school and so now we eagerly await the outcome. Once the moderating process has been completed, works will be included into the Art Gallery on the website.
Congratulations to all contributing Art students, you should all be incredibly proud of what you have achieved.
With great anticipation, the WGSB and WGSG Carnegie Award Shadowing Groups met in our Library, on Tuesday, to watch a live streaming of the award's ceremony.
Lively discussions took place about our preferences and who we think should win. The poetry books (Rebound; The Poet X and Long Way Down) were popular with the majority of us. As a group, we voted The Poet X by Elizabeth Acevedo as our winner for both the Carnegie Award and the Amnesty award.
With bated breath we waited to hear if our favourite would be announced as the winner. It was! Poet X by Elizabeth Acevedo won. The room filled with cheers when she won not only the Carnegie, but also the Shadowers' Choice and Amnesty Award. An amazing achievement!
Elizabeth Acevedo gave a heartfelt and thought provoking speech which resonated with us all. Well done Elizabeth!
All of the Carnegie Award shortlist books are available to borrow from our school library, and can be quizzed on 'Accelerated Reader'.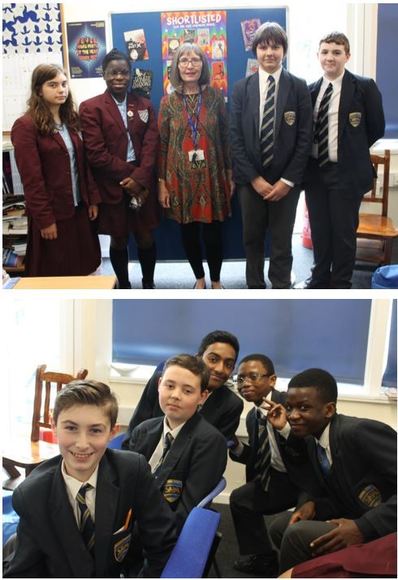 WG6 Year 12 Biology A level students have been extending their knowledge and understanding of the heart's function. This practical lesson saw them dissecting a heart in order to study the atria and ventricle and identify the tendinous cords and valves as well as measure and record the thickness of the walls. They then produced a detailed scientific annotated drawing.
The PE department are delighted to announce that the Y9 cricket side have progressed to the final of the North Kent Cup which will take place on Monday 24th June against BETHS.
The final will be held at Chislehurst and Sidcup Grammar School – we wish them all the very best of luck.
Jonas C, James P, Adam S, Alex G-T, Taran K, Senen H, Luke E, Louis P, Yousuf P, Michael W, Sam L, Michael W, Pasha K, Adam P
The North West Kent Teaching School Alliance is a joint venture between The Wilmington Grammar Schools and Dartford Grammar School. The Alliance is responsible for three specific areas: Initial Teacher Training, Career, Professional and Leadership Development and School to School Support and we have worked hard to develop our links with local schools in order to achieve our vision of continuing to raise the standards of teaching and learning.
As part of our CPLD offer, we organised a conference focusing on 'Removing Barriers to White Working-Class Achievement' through the Independent Thinking group. The day was coordinated by Phil Beadle - an experienced teacher from the local area and a proud member of the working-class. In this very interesting and challenging day, twenty-two colleagues from a range of primary and secondary schools discussed a range of cultural factors that need to be considered when trying to promote the learning of some of our students. These include exposing the children to more challenging reading materials, encouraging a belief in their potential and trying to build their confidence, as well as celebrating local working-class heroes. We also looked closely at the values and cultural traditions that underpin attitudes towards our education system and how we can channel these as positive forces for change.
This conference represented one of the most powerful examples of INSET that I have ever attended and as a proud member of that cultural background myself I thoroughly enjoyed having the opportunity to discuss strategies that all schools can think about and deploy.
Sarah Evans, Director of NWKTSA (pictured below with Phil Beadle)
Well done to WG6 (and WGSB) alumni Dan Rowson who took part in Grand Challenges last week to come up with practical actions to tackle climate change. Dan, who is studying at Exeter University worked with students from Falmouth and Exeter University, to make a hugely impactful presentation on the problem of concrete. We had no idea concrete was so bad! Grand Challenges is a family of initiatives fostering innovation to solve key global health and development problems.
Dan (pictured right in the main picture) and Falmouth graphic design student Taylor Jones (right) pictured with the Dean of Cornwall, Dave Hosken, who took a particular interest. He has asked them to supply him with information he can take forward in high level meetings to inform future building work in the University. Well done everyone involved!
School Reports. The Year 9 Exam Results for all subjects (except Maths) will be available on your SIMS Parent App from today, Friday 21 June. Year 9 Maths will be available from Monday 1 July. For more details on the App please see our website here
Please note that we will be finishing school on the Last day of term, Friday 19th July at 2.30pm. All the appropriate bus and coach providers have been notified
All are welcome at our Summer Fair on Saturday 29th June. This is a great family event with lots of stalls and activities for all ages. Not entirely surprisingly.. 'teachers in the stocks' is hugely popular with students! A Y7 & Y8 inter-house 5-a-side football tournament will be taking place on the day (for timings please see below). In addition to being a fun day out, all monies raised go to fund projects in school which directly benefit our students.
If you have a couple of hours to spare and can help run a stall or help set up we would love to hear from you. Please email pta@wgsb.org.uk
Best wishes,
Charlie Guthrie