Blog week ending 14th June
Posted on: 14/06/2019
Year 8 students travelled to Tenterton to visit the Kent & East Sussex railway. This unique attraction provided our students with a first-hand experience of pioneering Victorian invention and engineering as part of their History curriculum. Students were given access to the workshops to help understand the construction and capabilities of the magnificent locomotives and their rolling stock. The tour included visiting the signal box and understanding the role of a signalman as well as the opportunity to explore the luxury offered by the 1920's built Pullman cars which are still in service to this day offering first class dining trips. Students travelled between sites on one of their fully restored steam locomotive trains. For more information regarding Kent & East Sussex railway please see their website here
Congratulations to all Year 9 student on the exceptional results of their The London Institute of Banking and Finance Level 2 Qualification. All students have worked incredibly hard and shown great maturity toward their studies – 64% of students obtained an A or A* - a phenomenal achievement, especially when you consider this qualification is usually studied in Years 10 and 11. Mr Baker has absolutely loved teaching all the students in the year group so many valuable finance and life skills throughout the course. Their attitude to their studies and results bode very well for the forthcoming GSCEs!
Pictured below, students with Donna Lodge, CEO Endeavour MAT .
The Inter-House Competitions offer all students the chance to get involved with an activity and win valuable Points for their House. Recent events have included hungry hippos (pictured), board games, spelling bee and GoalBall; which was originally developed as a game for blind athletes. Our students play GoalBall blindfolded, in teams of three with a ball that has bells imbedded, relying on ear-hand coordination. Well done to all students who have taken part and thank you to our WG6 volunteers for their help organising events. The House Point scoreboard is currently;
Congratulations to Dan H & Ned H of WG6 who have both been awarded a 'highly commended' in their Design & Technology A Level project.
Dan's Automated Fire Extinguisher was deemed by the moderator to be suitable to become a commercially viable product such was the calibre of his project. The AFE is designed to manoeuvre itself to the source of the fire (the hottest point) and self-trigger to extinguish the flames.
Ned's project is a Coin Collector which is a highly technical machine designed to sort and count loose change. The moderator awarded a score of 90% - a brilliant result.
The annual Jack Thompson Memorial Match will take place this Saturday 15th June at Hayden Football Club in Wilmington. Gates open at 11am. The day is an annual charity event in memory of WGSB student Jack Thompson. Come along for a fun day and watch the WGSB Old Boys v Hayden FC Old Boys.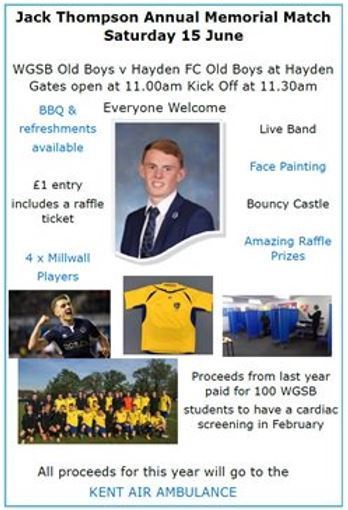 All are welcome at our Summer Fair on Saturday 29th June. This is a great family event with lots of stalls and activities for all ages. Not entirely surprisingly.. 'teachers in the stocks' is hugely popular with students! In addition to being a fun day out, all monies raised go to fund projects in school which directly benefit our students.
If you have a couple of hours to spare and can help run a stall or help set up we would love to hear from you. Please email pta@wgsb.org.uk
The early May 2020 Bank Holiday has been moved back by four days to Friday 8th May for the whole of the UK to coincide with the 75th anniversary of VE Day. The school term dates have been updated accordingly. The BBC has published an article on its website which can be read here
Best wishes,
Charlie Guthrie