Blog week ending 7th June
Posted on: 07/06/2019
All are invited to our annual exhibition of GCSE & A level work in the Art Department on Thursday 13th June. The work of this year's GCSE and A level students will be on display and students and parents from any year group in the school are very welcome to attend at any time between 6-8pm.
This is always a very pleasant, informal evening, where you have the opportunity to look through students' work at your leisure. We are very proud of what our students have achieved this year and look forward to seeing you.
Year 8 Art students have completed their project on bugs and creepy-crawlies! Their final pieces are these intricate and beautifully designed 'steampunk' style mechanical sculptures. All materials were scrap collected from home and around school. A whole host of imaginative and technically brilliant bugs are now on display in the Art Department.
WG6 Chemistry Enrichment students are getting to grips with organic chemistry processes by refluxing oil of wintergreen to make 2- methylbenzoic acid, the first stage in the preparation of aspirin. This will be used to make aspirin in the following weeks, before assessing the percentage yield and the purity using melting point determination and thin layer chromatography. All WG6 Chemistry students are welcome to join the programme – please see Mrs Munden at the WGSG site for more information.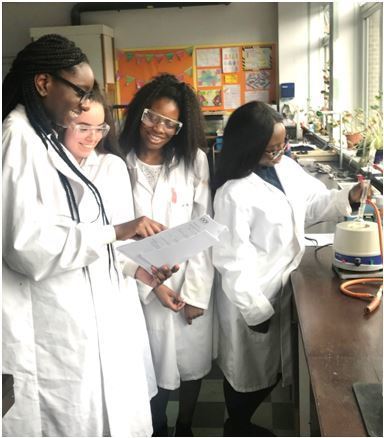 The Science Department have purchased Data Harvest Data Loggers and a range of sensors. The PTA have very generously donated funds to help with the purchase which will be used across all science disciplines and key stages. All classes will have with the opportunity to use the new equipment during relevant practical lessons. The digital data loggers are used to provide electronic measurements and capture data for a whole host of scientific experiments. This will introduce students to new, industry standard technology and will develop their understanding during lessons and provide transferable skills. Pictured below, Senior Science Technician Mrs Edwards analysing results from a test experiment.
The PTA provide a wealth of support to our students and school community as a whole. All funds raised via their numerous activities is invested back into the school to enhance our students learning and school life. If you would like to get involved or find out more about our PTA's activities please see our website here
Year 7 Chemistry students' current topic is acids and alkalis. Students have made their own indicator from red cabbage and used it to test the acidity of a range of household substances. The pH probe attachment from the new data logger can then be used to get an accurate measurement of the pH of each substance.
WG6 Psychology – student report. On Tuesday, a group of Year 12 Psychology students visited Bethlem Museum of the Mind at Bethlem Royal Hospital in Beckenham. Here, they got to attend two talks: one on the history of the hospital and mental health treatment; and another by Simon Darnley, a leading specialist in Obsessive Compulsive Disorder (OCD). Both were very informative and intriguing. There was also some time to explore the museum itself which holds pieces of art completed by mental health patients from the past and also artefacts that display how mental health disorders and their treatment have changed over the years. We all found it fascinating and some are now looking into how to pursue a career in the field!
Our Y10 Design for the Built Environment students will be working on a project to provide provisional plans for an extension to Leyton Cross Social Hall in Wilmington. Students have been liaising with company Trustee, Mr Barry Saunders (who's sons attended WGSB), and will be creating designs to include a new social area and create disabled access throughout. Students will be producing hand drawn plans, together with a 3D computerised CAD model using REVIT professional industry software.
The Behaviour Policy has been reviewed and updated to ensure it supports and reflects our shared values of PRIDE (outlined below) and to enable all students and staff to make the most of the opportunities provided in lessons, and school life as a whole. Mr Guthrie has held a series of assemblies to reinforce the values and principles of the policy. The full Policy can be viewed on the website here, including details of the Rewards and Sanctions rules which have been designed to maximise the number of students being rewarded for their positive contribution to the school community. To view your son's Reward Points as well as term dates and attendance information please log into your SIMS Parent APP. More details on the APP can be found on our website here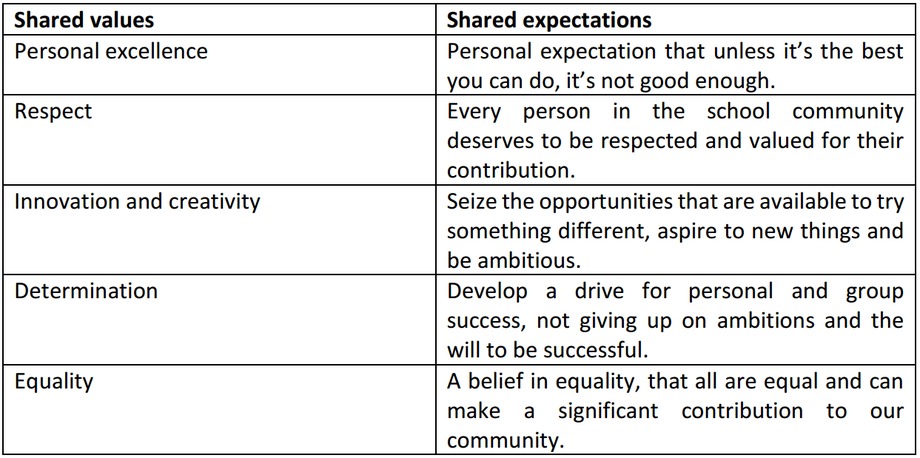 On Thursday 30th May, Donna Lodge CEO of Endeavour MAT and Gavin Barnett, Headteacher of Stone Lodge School were delighted to visit number 10 Downing Street to discuss their plans for our new school, Stone Lodge. The reception to celebrate the opening of free schools was hosted by the Prime Minister and attended by the Minister for Education and various other representatives from the Department for Education. Mrs Lodge and Mr Barnett pictured below, had a wonderful afternoon and commented "it was lovely to discuss our plans for Stone Lodge School with so many influential people. It is such an exciting time as we enter the count-down to our grand opening in September.
WGSB PTA Update
Summer Fair – Saturday 29th June, 11am to 2pm
Calling all Stall Holders - If you would like to set up a stall at the fair please contact Jas on pta@wgsb.org.uk
Volunteers required - we need help setting up, running stalls or helping on the BBQ. If you are able to spare a few hours please contact the PTA via pta@wgsb.org.uk
Summer Raffle Draw
1st Prize – Apple Airpods
2nd Prize – National Trust Annual Family membership
3rd Prize – £75 Bluewater Voucher
…..plus many more
Raffle tickets – coming soon! Please help sell as many as you can, every £1 raised helps us fund the many exciting projects to the benefit of our students.
We look forward to seeing you on 29th June.
WGSB Uniform Shop – Now Open on the school premises
The Second Hand Uniform shop is run by the PTA and we're here to help. We sell all uniform and PE kit items for you to purchase. If you require any items please email the PTA.
You can also help by donating any outgrown uniform, please send it to the school office marked for the attention of the PTA. Thank you.
If you wish to purchase any items contact Sam via E: pta@wgsb.org.uk
EasyFundraising.org.uk
How are we doing? – we have raised £1374.75 to date.
Thank you to our supporters shopping online with easyfundraising.
Your support really does make a difference, so don't forget there's 3,300 shops and sites you can raise free donations with.
Please make sure you shop the easyfundraising way every time you buy something online: Don't miss the Father's Day giveaway
https://www.easyfundraising.org.uk/causes/wgsbpta
Next PTA meeting – Monday 10th June, 7:30pm Birchwood Golf Club
The Smallpiece Trust was founded to give young people the support they need to bring their big ideas to life through science, engineering and maths (STEM). With the support of some of the UK's top universities and organisations they give students the chance to step out of the classroom and into a university campus to build their skills with their courses. In addition to providing specialist knowledge, the courses boost confidence, team building skills, problem solving and presenting. They also add weight to a CV and UCAS applications.
Summer Courses include Biomedical engineering and Aviation Technology. For more information and bookings please see their website here
Best wishes,
Charlie Guthrie