Blog week ending 17th May
Posted on: 17/05/2019
Once again, our Friday Reading Group are looking forward to the Carnegie awards ceremony on June 18th, when we will meet up with the Wilmington Grammar School for Girls Shadowing group. For the last eight weeks, we have all been reading the eight shortlisted titles. Mark, from 8D, has been amazing and finished them already. You can check out our thoughts on https://www.carnegiegreenaway.org.uk by looking at the WGSB homepage, under 'Shadowing'. You can also follow us on twitter @WGSBL.
The 'Accelerated Reader' board has run out of space because so many of our year 7 & 8 students have done so well. We have 25 word millionaires, and 10 multi-millionaires. Additionally, there are 52 students who have accrued in excess of 100 points. It's great to see so many boys reading such a wide and varied amount of books and doing so well with their quizzing.
Recently the Library changed from web based Oliver Library Management System to the cloud based Libresoft Management System, and students now use their school ID card to borrow books, rather than biometrics. You can check out the site here https://apps.libresoft.co.uk/8865403-fla4bhjnsaxfj9gxgolk-wgsfb/
Students will need to see me to get their log in details.
Finally, we will finish the term with a Year 7 sponsored read. This is something we do every year, as we aim to further encourage reading and raise funds for sick children, by supporting 'Read for Good'. Last year's students raised nearly £2000.00 I do hope everyone will participate, however much you can raise. As a certain company say 'Every little counts'!
Year 10 Physics students are currently studying density. For this GCSE required practical lesson students were challenged to calculate the density of regular objects (ones that are easy to measure such as a cube) and irregular objects (an irregular shape so more difficult to measure).
Year 7 Design Technology and Engineering students haven putting their knowledge to the test by designing and drawing to scale plans for a kitchen. This project allows students to apply their knowledge and skills in problem solving and evaluation.
Chemistry students are studying the reactions of Group 1 metals with water (lithium, sodium and potassium). Mrs Hollebon conducted a demonstration whilst students recorded their observations of the reactions of each metal. Students made detailed notes of the metals used, their appearance and the reaction when they were placed in the water trough.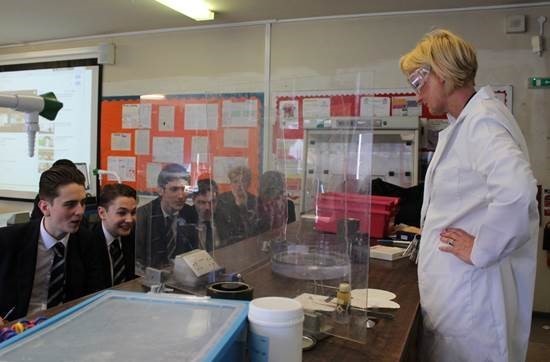 WG6 Chemistry students spent a practical lesson identifying unknown solutions and the reactions of silver nitrate. This microscale version of an A level exercise required students to be able to identify solutions by analysing their reactions when mixed with sodium carbonate and silver nitrate.
Mr Sage was delighted to attend Maidstone United FC on Saturday 4th May 2019 to watch four of our Year 10 Footballers representing North Kent District in the Kent Schools Inter District Final against Canterbury District. The final score ended 3-1 to North Kent. The four Wilmington boys all played their part in what was a top professional performance and topped off a successful season for North Kent who narrowly missed out on a National Final this year. Mr Sage would like to congratulate the following Y10 boys on their success Abdussamee A, Jude J, Callum H and George W.
We are delighted to share the news that Mr Simmons, Head of WG6 Y12 and Geography at WGSG has scooped two awards in the Kent Teacher of the Year Awards. Mr Simmons was presented with the Award for Secondary School Teacher of the Year in our district, Dartford and Gravesend as well as the highest accolade – that of The Secondary Teacher of the Year for Kent.
The awards dinner was staged by educational charity the KM Charity Team at the Ashford International Hotel. A staggering 1,100 nominations were submitted by students, parents, and school staff praising colleagues for categories including primary, secondary, further education, and newly-qualified teacher as well as team and volunteer awards.
Phil Reynolds from Kreston Reeves was on the panel of judging organisations tasked with selecting the winners. "The amount of nominations we get grows every year and they just improve year-on-year," he said. "Teachers and their support staff do such a wonderful job in the sector."
Congratulations Mr Simmons, we are delighted that your enthusiasm and commitment to the subject and our students has been recognised with these most prestigious awards.
Mr Simmons said "I was thrilled to receive this award and am grateful for the students at WGSG for nominating me!"
Thailand 2020 Community Project Trip – Open to all students across WG6.
Have you ever fed an elephant? Would you like to make your morning commute via long tail boat? Would you like to make a tangible contribution to a community by building a classroom? If so, then this is the trip for you! We are delighted to announce that we still have a few remaining places on the trip of a life-time. The project's primary goal is to teach English to primary school children on the border of Thailand and Myanmar, as well as building a much needed structure for the school, like a classroom.
As well as all of this, students will visit beautiful Buddhist temples, shop in a vibrant night market, feed Elephants in an Elephant Sanctuary, trek through incredible tropical locations, participate in thrilling water sports and make incredible memories that will last a lifetime. We stay at the stunning Maekok River Village Resort and have access to all of their amazing facilities.
If your son/daughter is interested in a career in engineering, construction, education, the charitable sector or looking for real-world experience that will make their personal statement shine, then this is the trip for them.
As this is a charitable project, the students will also be undertaking fundraising projects within school, such as the annual Year 7 sleep-over, with all money raised going towards the communities we will be working with. This will equip them with invaluable team working and organisational skills, as well as unique work experience for their CVs. Students may also decide to fundraise independently outside of school to contribute to the cost of their trip: this may take the form of bake sales, sponsored walks, car washing or even taking a part-time job over the summer.
We are pleased to be able to offer one bursary place on this trip. They will pay half of the cost and in return will have additional fundraising responsibilities. This could go up to two places depending on the number of students who sign up for the trip. Applications for the bursary places should be made in writing to Mrs J-Duckett. Whilst the cost of the trip is significant at £1850, it is excellent value for money. We will have ten action-packed days and travel with the national carrier, Thai Airways.
The trip is set to depart on Thurs 13th February, 2020, and the students will return on Saturday 22nd February. If you would like more information or would like to secure a place please contact Mrs J-Duckett via the Wilmington Grammar School for Girls main school office.
The view from the restaurant where we take all of our meals at the Maekok resort
The long tail boat we took to school on the final day.
A stunning temple we visited on our first day
Congratulations to Joel G of 7S who starred in a recent production of Doctor Faustus with the Geoffrey Whitworth Theatre's Youth Group in Crayford. Joel played the part of Gluttony and the Pope. The play was performed over three nights and was seen by nearly 450 people. The production was really well received.
Joel is looking forward to participating in the Youth Group's next production which will be The Railway Children. More information concerning The Geoffrey Whitworth Theatre and its Youth Group can be found here
Best wishes,
Charlie Guthrie