Blog week ending 3rd May
Posted on: 03/05/2019
The WGSB Formula 1 team was boosted by a donation from Nico Office Ltd. Alex E (pictured with cheque) approached Sarah Hori at Nico Office Ltd, who was so impressed with his pitch and the initiative he showed, that the company have generously sponsored the next F1 competition. David Gear and Sarah Hori visited the school to meet the team and learn more about the project. The team comprise Alex E, Lewis F, David O, Jack E and Harry G all of 7 Newton.
The Inspiring Future WG6 Conference was an informative and thought-provoking event which provided students with support and inspiration as they consider their future paths.
Maria McEvoy from Cambridge admission department offered invaluable advice on personal statements and the Oxbridge/Russell Group application and interview process.
Gareth Johnston MP spoke about his career and chaired a discussion on the current political climate. He then talked about the importance of the personal statement and shared ideas on opportunities to embark upon which will help inform their USP – and make their application stand out.
We welcomed back ex-student Josh Bunce who is in his second year at Surrey, reading Economics who talked about his Cambridge application and how he is challenging himself at university. He has applied to do an exchange to Australia University and has a future placement in the Home Office. The message was very much 'seize every opportunity!'
Year 9 Science Students are studying the diffusion of water across partially permeable membranes – Osmosis. During this practical lesson they undertook an experiment with the objective of investigating the effect of a range of concentrations of salt solution on the mass of plant tissue. Students then collated and evaluated their results.
Year 7 and 8 students have taken part in the UK Mathematics Trust (UKMT) Junior Challenge. The UKMT Individual Challenges are lively, intriguing multiple choice question papers, which are designed to stimulate interest in mathematics and aid problem solving. Results will be available later this term.
A sample question students tackled is as below (answer at the bottom of the blog!)
On Aoife's 16th Birthday, Buster was three times her age. On Aoife's 21st birthday, how old was Buster?
a) 32 b) 48 c) 53 d) 63 e) 64
Year 8 have been doing a project on bugs and creepy crawlies. They have produced visual research by drawing lots of different types of bugs. Then they researched steampunk art and created drawings of mechanical style bugs. They have been collecting scrap materials and are now using their imagination and testing their construction skills to produce imaginary bugs with the collected materials. Here are some of the boys with their work in progress.
Congratulations to the Y10 Football Team who have added to their successful season, by beating Northfleet Technology College 4-1 to progress to the District Cup Final. Final date and venue to be arranged.
Catering update. Please note that the default maximum spend per day in the canteen is set at £7.50, however, if you would prefer a HIGHER, or LOWER amount than that for your daughter or son, then please contact the school kitchen on WGSB@ainp.co.uk
Dr Harris, of our History Department has contributed to a BBC Radio 4 programme 'The Long View' at the Alexandra Stadium, Birmingham (the venue for the 2022 Commonwealth Games). The programme, presented by Political journalist and author Jonathan Freedland seeks to look at events happening today using historical context.
The issue being looked at here was Gender in Women's sport, with ever increasing controversy surrounding the status of transgender athletes and the case of the South African middle distance runner, Caster Semenya. Dr Harris' primary role was to give the historical example, which looked at the Polish-American athlete Stella Walsh, while three time Olympic medallist Kelly Sotherton and Dr Gemma Witcomb debated the current issues within womens' athletics.
The programme can be listened to here

The annual Trevithicks Industrial Dartford Event is on Saturday 11th May. The Steam Fair is an amazing event encompassing all aspects of Dartford's engineering history. There are a host of attractions including steam engines, vintage buses, WW2 military vehicles, classic cars, tractors with heavy horses, traditional fairground rides, food stalls and WGSB who will be running the education stand in one of the marquees. Please do come along and visit us on our stand.
A triple congratulations to Alex B of 9B who represents Kent Rugby U14 team, Kent Football U14 and the North Kent District U14 football team! It is an amazing achievement to represent the county in one sport, two is truly remarkable. It has just been confirmed that Alex is to join the Kent Rugby Final squad U15s next season. Not surprisingly, Alex has chosen PE as one of his GCSE options and we look forward to supporting his sporting endeavours.
The below photos show Alex in his Kent Football kit, prior to representing them in Dallas and right, with the Eagles Cup which he won with the North Kent District team.
Jaedon L of 9B has just returned from Barbados where he represented Jamaica in the Carifta Swimming Championships 2019. This was an incredible experience for Jaedon who performed brilliantly - securing two silver medals and one bronze medal. In addition, he achieved three personal best times. This excellent performance means that Jaedon has been put forward for selection for the Central American Championships in June.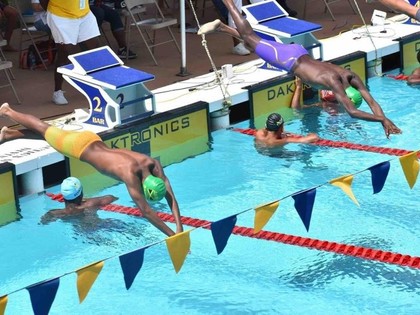 Jaedon receiving his medals second from right
We are delighted to share the news that James B of 10T has been successful in achieving one of his dreams in representing his country! James, a goalkeeper, had been selected in the squad to travel to Italy with England and play in the Delle Naizioni Tournament. James is now officially an England International and a Young Lion at the age of 15. James' first game on International duty saw him keep a clean sheet, and play part to a 6-0 victory over Qatar. Well done James!
I hope you have a relaxing bank holiday weekend.
Best wishes,
Charlie Guthrie
The Maths Challenge answer is c) 53