Blog week ending 26th April
Posted on: 26/04/2019
Welcome back, I trust you all had an enjoyable Easter break. Our facilities team have been undertaking works over the break including the fitting of new IT rooms in readiness for our network upgrade in the Summer as well as installing a new catering pod (more of which below). For those students sitting their public examinations in the summer, each department has scheduled revision clubs and lunch time sessions to support students with their preparation.
Mr Palmer's GCSE Music Students are finalising their compositions following a visit from the examination board moderator. The moderator provided useful notes and input which the students are using to make the final adjustments to their pieces.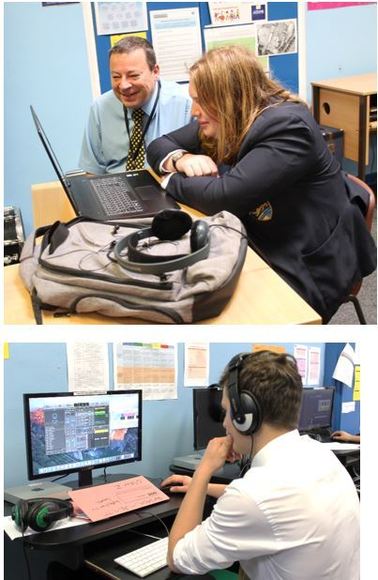 PE Department after school clubs Summer 2019. Please see the PE department for more information.
Cricket Clubs
Year 7 - Tuesday after school 3.30 – 5pm with Mr Sage & Dr Harris
Year 8 - Thursday after school 3.30 – 5pm with Mr Powell
Year 9 - Thursday after school 3.30 – 5pm with Mr Lynch
Tennis Clubs
Years 7 & 8 Monday after school 3.30 – 5pm with Mr Harris
Years 9 & 10 Tuesday after school 3.30 – 5pm with Mr Harris
The first of four Tennis competitions starts this Thursday 2nd May and Cricket games will begin starting next week also for all teams with all sides entered into the Kent and North Kent competitions.
Mr Lynch
Year 7 Science students have been simulating the seasons in a practical experiment to investigate the impact of the tilt of the earth and the angle in which light from the sun hits it. During the activity students were able to model how energy from the sun changes with the seasons and to explain the change in the temperature during different seasons.
The Year 10 PPEs are underway. These examinations are run in the same manner and under the same conditions as public exams which helps to familiarise students with the process required for their GCSE exams to come.
Our new catering arrangements are now in place! Serving a wide range of meals and snacks at breakfast, break, lunch and after school. In addition to the new look dining area there is the new food pod in the school grounds, providing a second service area for ease of access. All students have now been issued with their new multipurpose ID cards, which can be topped up via ParentPay for food purchases. For more information and the current menu please refer to our website here
Congratulations to Lewis F of 7N who has secured two National BMX Series wins. This latest round was held at Cyclopark, Gravesend and Lewis will be competing in two further rounds in Birmingham and London before heading to Belgium to compete in the World Championships. Well done Lewis, we look forward to hearing about your participation in the World Championships.
Lucy F of WG6 is a member of the England women's under 19 football squad and was recently in action at the Euro Qualifying competition at St George's Park. Lucy played in two of the three England matches, scoring key goals in wins against Turkey (7-0) and Italy (2-0) – despite being a defender! Lucy will be representing England again in the finals of the competition against teams including Germany, France and the Netherlands. We are all incredibly proud of Lucy and her achievements and will be following the competition finals in July.
WG6 students who have recently attended an anti-bullying ambassador training session as part of the Diana Award Anti-Bullying Campaign; have run a cake sale to support and launch their in-school initiative and to raise money for the charity. The students baked and decorated some beautiful cakes raising £95.00
Best wishes,
Charlie Guthrie
Head Teacher