Blog week ending 5th April
Posted on: 05/04/2019
Congratulations to our newly elected Head Students; James G, Jonathan B, Lori S and Jess R. As part of the election process all nominees presented a school assembly, attended an interview with the Senior Leadership Team and faced a staff and student ballot before being appointed – a very rigorous process! Our Head Students play vital roles across the school providing direction and support to the Student Leadership Body as well as working collaboratively with staff and students providing a positive role model and ensuring good communication and support across the school.
WG6 Y12 Celebration Assembly. This special assembly represents the culmination of the hard work and determination of our Y12 student body. Special Subject Awards and Head of Year Awards are presented in recognition of the standard and improvements of our students' work rate and ethos building upon the PPE results.
Dr Musami's Year 10 Biology students are studying homeostasis and how the body maintains water balance. Having completed a series of lessons looking at the anatomy and physiology of the kidneys, which included looking at a demonstration model to familiarise students with the external and internal structures, students dissected a kidney from a lamb in order to further familiarise themselves with the key features and help improve their skills in drawing biological diagrams.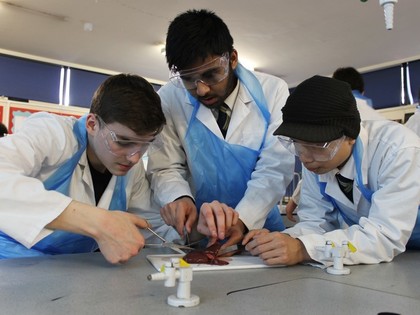 Well done to all Year 9 students whose conduct and achievements secured them a coveted place on the Rewards Trip. Students travelled to Jump Giants in Thurrock, Europe's biggest Trampoline, Adventure, and Air Park! It was a great day, with plenty of healthy rivalry in the Wipe-Out competition – congratulations to the winner Callum B
Pictured below, the Wipe-Out heats with Louis P in mid-air!
What a fantastic effort from the Y11 football team who gave everything they had in the final of the KSFA Invicta Trophy. There was nothing to separate the teams on the night resulting in both teams being named joint champions of the Kent Cup. A brilliant achievement of which we are incredibly proud.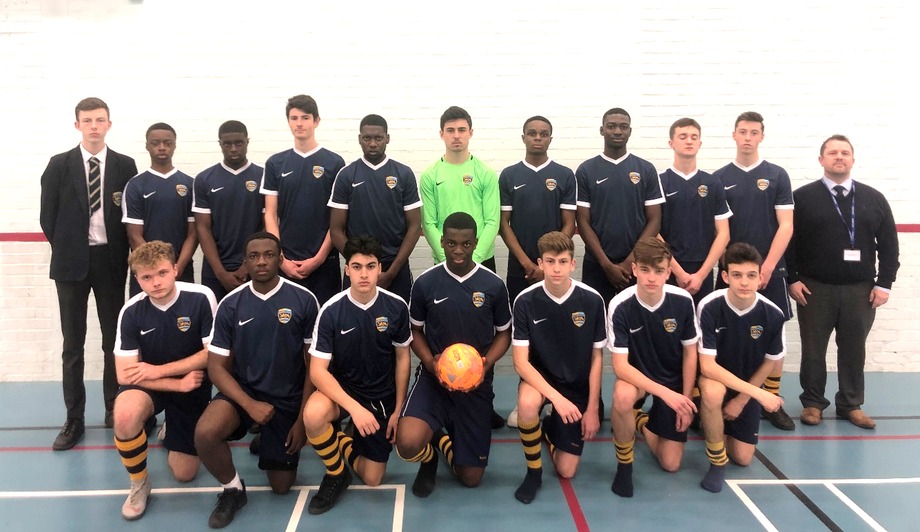 Year 11 Historians enjoyed a session led by Malcolm Chandler, an ex-chief examiner. The session was focused on improving GCSE exam technique and the vital aspect of understanding the topics inside out. Students engaged with Mr Chandler's unique delivery and came out of the session having got some great tips about getting the highest grades.
Squash Update. Our Y7 & 8 junior squash teams have been busy training and playing matches. We took 8 boys to St Olave's, and played 2 matches against them winning one and losing one. It was a great experience for the boys who learned about the added pressure of playing in a competitive setting and with an audience. Some of the youngest members are making great progress which is terrific to see. Our thanks to Alex, Ollie, Teddy, James, Reuben, Benas, Sam and Thomas for taking part.
A week later we played Sevenoaks with a junior team of Ollie, Teddy, James, Reuben and Benas. We were missing our number one junior player Alex so the fact that we won was really heartening. What really showed was the progress some players made in just one week.
Our rebuilding process is now well under way and we look forward to more matches soon including the Summer Squash Championships. There are just a few spaces for new players at both our Tuesday and Thursday sessions so if any students would like to join in, let me know at csexton@wgsb.org.uk
Mr Charles Sexton
Our schools have been getting involved in the Great British Spring Clean. Dartford Borough Council, who are supporting the initiative provided extra equipment to help students gather litter from the local area. Students from both schools collected discarded rubbish from across Wilmington Village and up onto Dartford Heath – making a huge improvement to our local environment for all to enjoy. The Mayor of Dartford attended, playing a very hands-on role in support of our students' endeavours.
Congratulations to our Accelerated Reader student Kai V of 8D who has achieved the astonishing feat of earning 86 points in a day. In his latest 'Accelerated Reader' quizzes on 'It' by Stephen King and 'The Outcast' by Taran Matharu, he passed both tests at 100%.
Please continue to encourage reading for pleasure, as it is the perfect way to boost literacy levels and extend vocabulary.
I hope you all have a very happy and restful Easter. The first day of the Summer Term is Tuesday 23rd April – and don't forget, Year 10 exams commence first day back!
Best wishes,
Charlie Guthrie