Blog week ending 29th March
Posted on: 29/03/2019
As we approach our last week of term please can I remind parents that school will finish at normal time, 3.30pm on Friday 5th April.
Careers Convention. A large number of universities and businesses were represented at our annual further education and apprenticeship convention. All exhibitors were able to offer first-hand advice and information to our Y10 /11 and 12 students to help navigate the way through the many opportunities available to them. Luke C of Y12 has provided the following review of the apprenticeship element of the convention.
Overall, I believe that the convention was a well-planned, knowledge-packed activity with ex-students conveying the new experiences they've had with different universities or companies. I received vital information about apprenticeships and degree apprenticeships, which is something I'm very likely to be involved in following Y13. My main focus of study after Y13 would be based around Economics and Business, such as investment banking and internal audit for big companies based in London. A BBP representative gave me an insight of what I would need to obtain an apprenticeship for the company, such as applying in the Easter months for a placement in the following school year (September). She was very helpful and she cleared a lot of things up for me that I wasn't sure about / or had little knowledge about. Also, she told me that you did not need specific A Level subjects to do the course, but some are more preferred in different fields. Furthermore, she told me that Y11s can also apply for these apprenticeships as an alternative to further education or sixth form, therefore it offers a very diverse training scheme for just about anyone interested in the course they would like to choose. Also, a representative of QA apprenticeships gave me an alternative view of different career choices to choose which would still lead me to what I would like to do. This has inspired me to work very hard at the company I choose to do my apprenticeship at due to the fact that the company may choose to offer me a full time work placement there, as well as offering training for all the essential qualifications I need. There were also quite a few other stands available, such as Vacancy Snapshot and Laing O'Rourke.
I also attended a marketing seminar, ran by a very confident representative who has expertise in the marketing sector. He conveyed very vital information about marketing and how it can affect almost everybody on a day to day business, and how marketing is used in 'just about everything on social media'. After this event, I came to a conclusion that my ideas on what I would like to do may alter every so often, and that I should not be scared of making decisions about my career choices, as long as it is something I am passionate about doing. The representative also told me that it is very important to take in new knowledge when doing brand new things, as it travels with you throughout your life.
In conclusion, the convention was an informative and motivating experience towards my plans of applying and obtaining an apprenticeship or degree apprenticeship.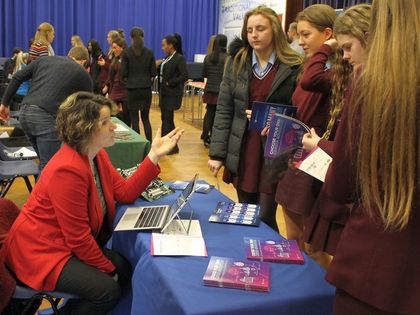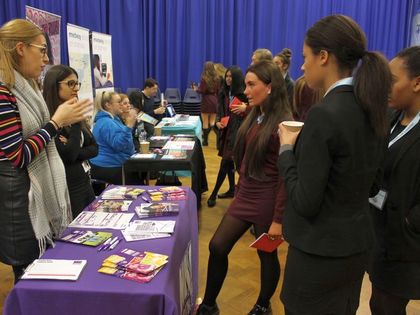 Year 10 Chemistry students are continuing their study of acids and alkalis. In this practical lesson they compared hydrogen ion concentration and pH. Students recorded pH and then compared it to the standard form of the different hydrogen ion concentrations.
Supporting Your Child During Exam Time (Young Minds). As we start to move towards exam season, Young Minds have launched advice for parents about supporting their children.
Tips include:
Encourage your child to take revision breaks and find a balance between studying and doing things they find enjoyable and relaxing.
Make sure they are eating and drinking at regular intervals.
Reassure them – reinforce that you are and will be proud of them no matter what happens.
Remain positive and hopeful!
Let them know their feelings are valid and normal, but also offer support and solutions where possible.
Anxiety is often worst at night and this means it is useful to encourage good bedtime routine
You can find out more here: https://youngminds.org.uk/find-help/for-parents/parents-guide-to-support-a-z/parents-guide-to-support-exam-time/
A group of 33 Year 12 and Year 13 Psychology students attended the Psychology Conference at the Emmanuel Centre in Westminster. There were some big names in the field of psychology talking about their work and how this can lead to big change in society. All talks were tailored to link in with the topics within the A Level and all students found it insightful and engaging. The 'headline act' of the day was a lecture from Elizabeth Loftus who spoke about her pioneering work into human memory; more specifically; false memories. Key studies by Loftus are crucial to the study of A Level Psychology and students were able to hear about progress that has been made within this field since these studies took place. Students were also able to hear and meet famous Criminologist Professor David Wilson who spoke in great detail about his investigation into the case of Jack the Ripper ahead of his BBC documentary being released next week which was very exciting! Overall, this conference was an excellent opportunity for students to indulge their intellectual curiosity and delve deeper into specific A Level topics.
Pictured, Lucy Cruickshank Hannah Rowe with their signed copies of Professor David Wilson's book.
Psychology students with keynote speaker Professor Elizabeth Loftus
Congratulations to Luke J of 11N who recently competed in a Judo tournament in Dartford. Luke won the Gold medal in the Juniors (U16yrs) and then went on to fight in the Senior U73kg category, where he secured a further Gold medal. This is a significant achievement for someone of his age, and bears testament to his tenacity and skill. We are very proud of Luke's success and look forward to hearing more from future competitions!
You may have spotted a familiar face during the coverage of the recent England v Czech Republic match at Wembley last Friday. James B of 10T, who is a member of the England U15 football squad was on ball boy duties. James is a squad goalkeeper and has attended three England camps, training with the national coaches. James thoroughly enjoyed the experience, watching the England team secure a 5-0 win.
Best wishes,
Charlie Guthrie