Blog week ending 15th March
Posted on: 15/03/2019
The Mathematics department led a special set of competitions to mark National Pi Day which celebrates the mathematical constant π. Pi is observed on March 14 (3/14) in the month/day format. A highlight of which was the pi/pie eating competition! Two contestants from each house took part in a race to consume small sweet pies in a 10 second time-frame – not surprisingly, this was a very popular inter-house event. Congratulations to the Y7 winners Favour and Jeevan, both of Newton and the Y8 winners Aaron and Rohan S of Brunel. Another hotly contested heat was the π memory test. Congratulations to Billy W of 10T who memorised an astonishing 100+ digits!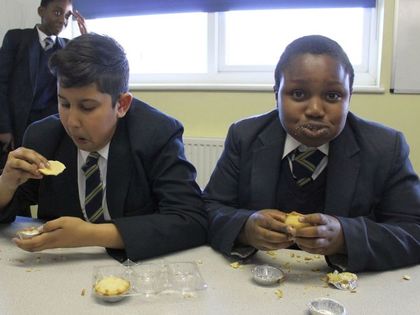 Favour & Jeevan of 7N, The Pi/Pie eating competition winners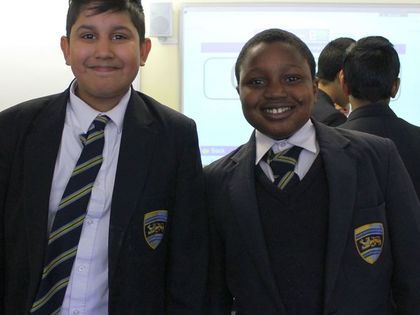 Aaron & Rohan of 8B, The Pi/Pie eating competition winners
The runners up, with the winner, Billy, pictured centre
Y12 Physics students have been challenging their learning on Forces during a practical lesson. Students undertook three separate experiments; terminal velocity, investigating the bridge crane and determining density. These experiments allowed students a practical insight into Forces in action.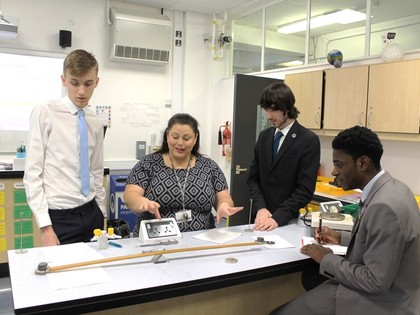 F1 in Schools. We started our F1 in Schools team last September with just 2 members, Jack and Alex. We grew our team by asking people if they wanted to join until we are here today.
Our team now stands as Bio Spirit with Alex E, Jack E, Lewis F, Harry G and finally David O.
The design software we started with was an online free to download software called Onshape. Then we moved to Autodesk inventor.
We then completed designing our car and started making it ready for the regional final on 15th February. We came 8th out of the 17 teams which competed. Our car is shown below (the white one) on the start line before racing.
By Jack E, Alex E, Lewis F, David O and Harry G.
Mrs Hollebon's Y7 Science class are currently learning about acids and alkalis, and crucially, how to work with them safely. In this practical lesson students investigated different concentrations of hydrochloric acid to identify which is the most reactive.
MFL students are taking part in the Global Vocab Express Challenge. Vocab Express is a website which aims to help students learn vocabulary more effectively. It helps them to improve their memory skills and to retain crucial vocabulary in the language they are learning. The Challenge is an international, inter-school competition that will run until 19th March 2019. WGSB is currently in the top 20.
The students have to log in and complete as many units of vocabulary as possible during the week, in order to accumulate points and compete with other schools. Currently the top 3 performers at WGSB are the following boys so well done to them!
1) Joshua T 7,955
2) Emmanuel D 7,060
3) Apigith A 6,470
To mark World Book Day, on Thursday the 7th March, every student was given a token with which to redeem against one of the below books. If your son hasn't already made his selection, there are still books available in the library. For those students on the Accelerated Reader scheme, each book is available to be quizzed on.
WG6 students attended an anti-bullying ambassador training session as part of the Diana Award Anti-Bullying Campaign. The specialist mentoring training will provide our student leaders with the necessary skills and confidence to become ambassadors here at WGSG and WGSB.

Online safety. As you know, we regularly schedule assemblies and in-form sessions regarding online safety. The parental advice and resource sheet for 'sexting' which we will be covering next week can be accessed here
Best wishes,
Charlie Guthrie