Blog week ending 8th March
Posted on: 08/03/2019
The Spring Arts Festival encompassed performance and exhibits from across the arts. We enjoyed a programme of amazing and talented performers showcasing a huge variety disciplines including dance, musical recital, orchestra and singing. Every student performer rose to the occasion and delivered accomplished and moving performances, we are exceptionally proud of them all. Thank you to our inspiring student performers who showed great confidence and impressive talent particularly when performing to such a large audience of family and staff.
The drawings, painting and sculpture on display was much admired and demonstrated the students' passion and technical skill. During the interval students delivered a short talk to explain their art and give an insight into current artists and projects being studied in the classroom and during art club.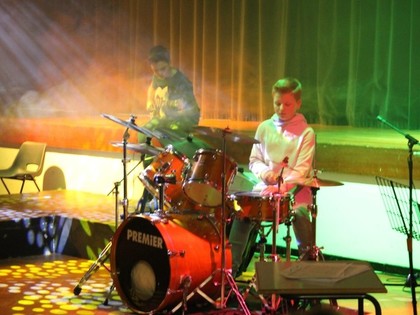 Year 8 Biology Students are studying DNA. Miss Morrison's class used sweets to create a double helix model. The class used different coloured jelly sweets to represent the nucleotides and long brightly coloured sweets for the phosphate backbones. It was a fun practical lesson to reinforce learning - the boy's demonstrated incredible restraint not to eat their models.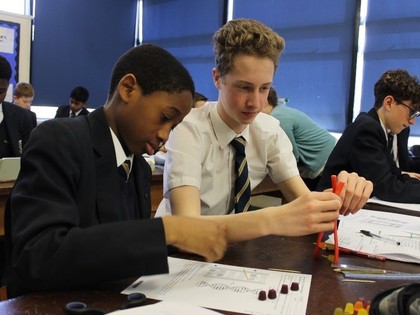 Congratulations to Emil K, James H and Morgan K who have made it through to the interview stage of the prestigious Arkwright scholarship programme.
The Arkwright scholarship is aimed at supporting our future engineering leaders as they progress through their A-levels and onto degrees. Across the UK approximately 4000 students apply for the scholarship every year and only 1500 make it to the interview stage, their selection based on their highly detailed applications and the results they achieve by sitting a rigorous aptitude test.
Let's hope our students all stand out at interview and become one of the 400 scholars in the country next year.
Congratulations and Good Luck with the next stage.
Petra Cox from the Crossness Pumping Station Engine Trust, visited Design Technology Students to update the students on the restoration project, which the Trust had been involved in. Crossness is a grade 1 listed building and an 'industrial cathedral'. Crossness will be re-opening its doors to visitors on 31st March. Further details can be found on their website here
This visit is also of note due to the 200th Anniversary of the birth of Joseph Bazalgette, who was the lead Civil Engineer in the design of London's sewage system in the Victorian era.
http://www.bbc.co.uk/history/historic_figures/bazalgette_joseph.shtml

Year 9 Art students are exploring cartoon and pop-art techniques. They have been practicing drawing 'Marvel-esque' cartoon characters using pens, playing particular attention to weight of line and shading styles. In future lessons students will develop their range, working towards producing cartoon strips and pop-art images.
Half Full Not Empty is an organisation which provides students with the necessary resources to help maintain a positive emotional state and to encourage proactivity in building the gap between young adults and professionals, so they feel able to seek help before crisis. HFNE are delivering a series of four sessions to our WG6 students to help support them with key strategies. Sessions include, stress management, preparing for examinations, anxiety and positive use of social media.
Best wishes,
Charlie Guthrie