English
The overall aim of the English Department is to encourage the development of individuals who are able to use their skills to listen and communicate sensibly and sensitively, and who can use their ideas in an insightful and thoughtful manner. English attempts to foster the individual aesthetic experience; a cultural appreciation and a clear and developed sense of identity by aiming:
to enable students to develop into sensitive, critical and efficient readers, who understand the importance of forming the habit of reading for pleasure, interest and for research purposes;
to develop students' writing skills so that they can harness a multitude of written styles, which serve many purposes and outcomes;
develop and promote the students' ability to be creative and imaginative;
develop learners who are attentive, responsive and respectful;
to allow students to read symbolically and enable the students to be sensitive to their own learning as an opportunity to empathise with others;
to enable students to appreciate their role as citizens in the wider community;
to engender a belief in equality by ensuring how students have access to a wide range of multicultural texts;
to adopt an efficient and cohesive approach to teaching and learning, using technology to support ideas, where possible;
to allow every student, no matter what their ability, the equality of access to learning activities both inside and outside the classroom.
Key Stage 3
Key Stage 3
English is a dynamic, varied and engaging subject. The focus of our Programme of Study in Years 7 and 8 is to develop a broad base of skills in the following key areas:
Reading
Writing
Speaking and Listening
What do students study?
At Key Stage 3, all students follow an accelerated curriculum over the two years. Our units are based on different subjects and texts; all of which ensure that a variety of texts from different times and traditions are included.
Year 7
An introduction to Year 7, focusing on developing analysis and sophistication in writing
Literary Heritage - Myths around the World
Non-fiction (Autobiography) - Boy by Roald Dahl
Fiction - Class Reader: The Boy in the Striped Pyjamas by John Boyne, My Name is Mina by David Almond or Where the World Ends by Geraldine McCaughrean
Pre-1900 Poetry - William Blake
Much Ado About Nothing by William Shakespeare
Year 8
Survival/Dystopia – a range of fiction and non-fiction texts are studied from 19th, 20th and 21st centuries, covering these themes
A Christmas Carol by Charles Dickens
The Gothic Genre
Post-1914 Poetry - Duffy and Armitage
Class reader: Of Mice and Men by John Steinbeck or Animal Farm by George Orwell
Romeo and Juliet by William Shakespeare
Our students will also have the opportunity to participate in the school's exciting Literacy event, 'The Big Read'. This involves the whole school being encouraged to read five recommended texts and participate in our WGSB Book Awards.
Recommended Reading Lists
KS3 Recommended Reading Lists
Book and Series Recommendations
Author Recommendations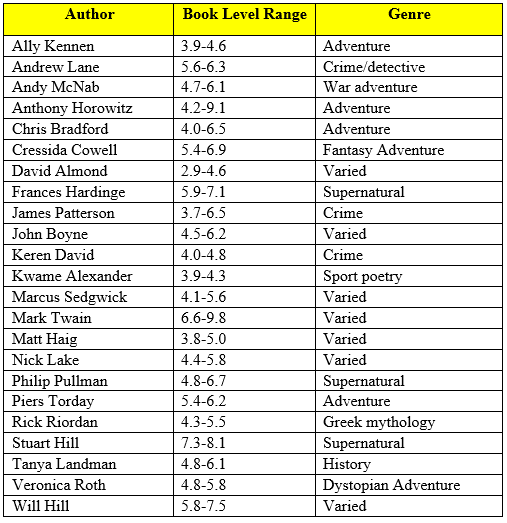 Classic & Modern Classic Recommendations
Edexcel GCSE English Language and GCSE English Literature
All students study both English and English Literature at GCSE and the course begins in Year 9 with an introduction to GCSE study. The subject areas are broad and include an extensive range of texts including: Frankenstein, War poetry and Lord of the Flies are studied to give the students the opportunity to develop their skills of analysis and evaluation in preparation for Years 10 and 11. The students are also given the opportunity to study media and non-fiction texts throughout Years 9 - 11 and are taught to write critically and accurately.
Speaking & Listening
The English Department offer students the opportunity to develop their speaking and listening skills throughout both Key Stages. Much of the work completed in the classroom involves discussion work and leads students to develop responsive and mature listening skills. From Year 7 onwards students are encouraged to use formal spoken English where necessary. Students are assessed on their speaking and listening throughout Key Stage 3 and the oral component at GCSE will be graded with one of the following: Pass, Merit or Distinction.
Writing
The English Department aim to foster students' personal development and technical confidence within the classroom. From Year 7, students are encouraged to hone their writing skills through the writing process – planning, drafting, proof reading and correction. We offer a diversity of different written modules at Key Stage 3, some examples are: poetry analysis; personal and autobiographical writing; writing which meets the needs of a diversity of audiences and contexts – these modules serve to equip students for the GCSE courses as well as the demands of English Literature at Key Stage 5. The students will be assessed in their writing during their GCSE English Language exams through directed personal writing tasks, both fiction and non-fiction.
Reading
The English Department aims to offer students the opportunity to study a broad range of texts: classic and modern literature from a range of cultures and traditions, as well as non-fiction texts. Students are taught how to identify different purposes and how writing can lead to a range of interpretations. The set texts for English Literature in 2019–2020 are:
An Inspector Calls by J.B. Priestley
Macbeth by William Shakespeare
The Strange Case of Doctor Jekyll and Mr Hyde by Robert Louis Stevenson
The poetry of Conflict (an anthology of fifteen poems selected by the exam board)
A Level Year 13
English Literature is a challenging and rewarding course – which will test the students' reading, discussion and analytical skills.
We are looking for people who are interested in ideas, are enthusiastic about their learning and committed to acquiring literary knowledge.
The aims of the course:
To develop the ability to analyse and think logically, as well as helping students to develop and express their written skills.
To read critically and develop informed opinion about novels, poetry and plays.
To experience a vast range of texts, by a variety of different writers.
To finish the course with a growing sense of creativity and excellent analytical and evaluative skills.
The importance of English Literature
English Literature is a highly respected and academic A Level – for many students the course leads to university courses in English. However, a number of students have opted for courses in Creative Writing, Journalism and Publishing, as well as using their close reading skills in different subject areas: Law, History; Sports Science, Business and Economics.
The time commitment
Regular reading and writing homework.
Background contextual and critical reading.
English Literature Assessment Objectives
AO1 - Articulate informed, personal and creative responses to literary texts, using associated concepts and terminology, and coherent, accurate written expression.
AO2 - Analyse ways in which meanings are shaped in literary texts.
AO3 - Demonstrate understanding of the significance and influence of the contexts in which literary texts are written and received.
AO4 - Explore connections across literary texts.
AO5 - Explore literary texts informed by different interpretations.
Set Texts
At WGSB, we follow the Edexcel course in English Literature. When we make our text choices we aim to give students a challenging, broad and balanced course which will suit them best.
Unit 1: Drama (2 hour open book examination at the end of Year 13. 30% of A Level)
The aim of this unit is to encourage:
Close reading of drama texts.
The reading of critical essays related to the Shakespeare play.
Section A: Shakespeare's 'King Lear' (40 marks)
Section B: Williams' 'A Streetcar Named Desire' (30 marks)
Unit 2 – Prose (1 hour open book examination at the end of Year 13. 20% of A Level)
A comparative essay based on one of the following texts. (40 marks)
Women and Society: 'Wuthering Heights' by Emily Bronte and 'A Thousand Splendid Suns' by Khaled Hosseini
Unit 3 – Poetry (2 hour open book examination at the end of Y13. 30% of A Level)
Section A – Unseen poetry (one essay based on a modern poem written post 2000 (20 marks)
Section B – English Romantic Verse edited by David Wright (40 marks)
Independent Critical Study (Coursework essay. 20% of A Level)
This essay will be an extended comparative essay of 2500 - 3000 words based on two texts. Students will select texts themselves (in conjunction with the English teacher and the approval of the exam board) and will also be required to write their own essay questions.
This may seem difficult, but it is the area of the course that A Level students achieve the highest marks in usually. This is largely because students are free to explore their own interests. It is also great preparation for University study.
Termly Outline